Over the past decade, our obsession with cartel-inspired shows has exploded. Narcos, one of Netflix most popular shows in the past ten years, continues to inspire games and parodies. That's because it is impossible to avoid thinking about sex during any cartel drama. In our NarcosXXX review, we will get a taste for what it's like to be a big time cartel playa who is always on the prowl.
NarcosXXX Review: What's It About?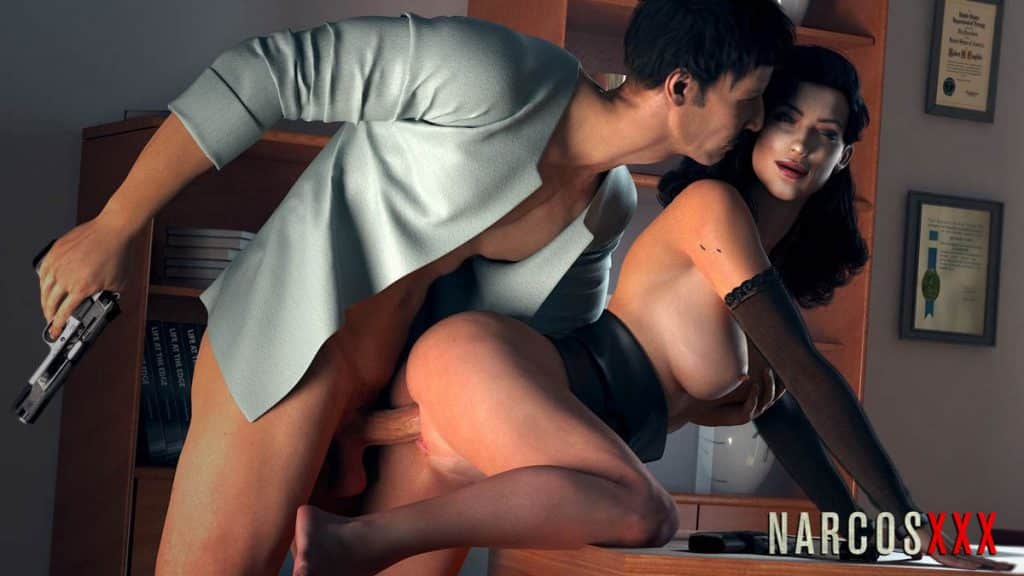 A picture is worth a thousand words, right? As you can see, NarcosXXX deplays almost every steamy cartel plotline in one scene. All this NarcosXXX screengrab is missing is blow. Fear not, NarcosXXX is ripe with drugs, sex, and violence. It's a full-on PC porn game with all the goods.
NarcosXXX is one of many games launched by SexEmulator. If you aren't familiar with SexEmulator, by all means, read our SexEmulator review. Otherwise, you might feel a bit confused when/if you attempt to sign up for NarcosXXX.
You play Pablo Escobar (actually, you get to choose, I'll explain below). You're the top brass of a sultry Colombian drug ring. As head of The Medellin Narcos Trafficante Cartel, you get most anything you desire. And you love women. NarcosXXX is a 3D Sim Role-Playing game. This means you experience a fascinating, sexy drug world via super high-end and sexy graphics.
NarcosXXX is real, authentic feels.
Earlier I mentioned that you play infamous drug kingpin Pablo Escobar. But the truth is, NarcosXXX allows you the option to choose your character right from the outset. I'm more a Pablo guy as I think you experience the best of NarcosXXX as his character, but you can choose between three.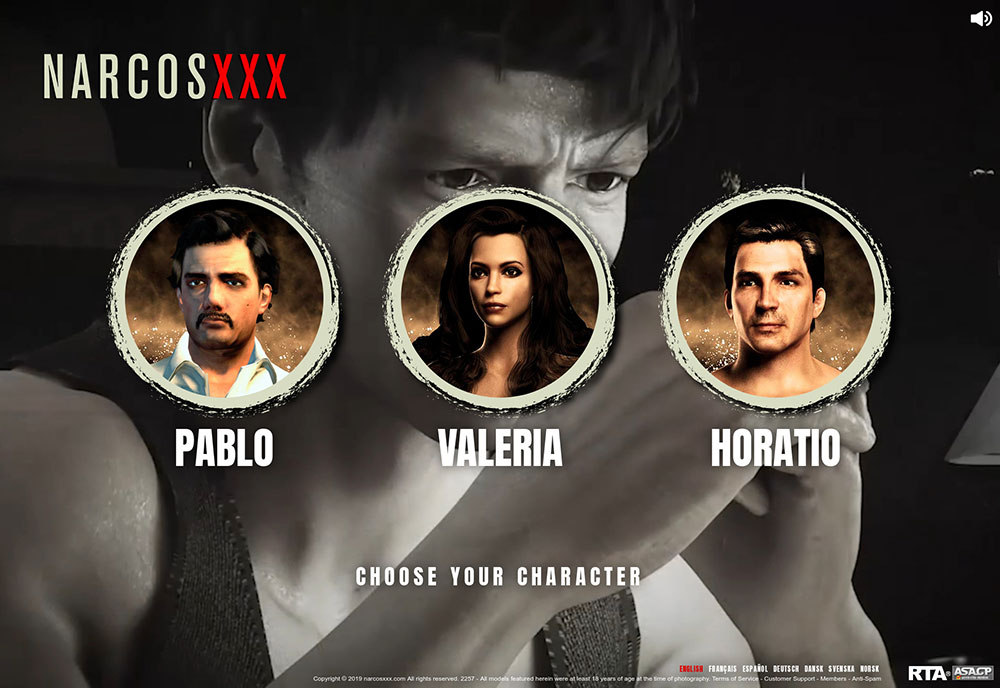 NarcosXXX is a first person shooter porn game. If you don't appreciate sex, drugs, and violence, this is not the porn game for you. And hey, we have a ton of free porn games to choose from (you do pay for NarcosXXX, see more below).
The overall gameplay is solid, not much in the way of freezing or glitches, so long as you have a good computer and more than decent Internet connection.
NarcosXXX uses what is known as Unity engine. The Unity engine is, in essence, a gaming platform that infuses reality into first person shooter games, including Call of Duty. This means gamers will use WASD movement keys to control Pablo and his shooting and porno escapades.
NarcosXXX Images – A 3D POV Sex Adventure
NarcosXXX graphics are insanely vibrant, 3-dimensional, mind-blowing fun. All the characters are highly sexualized. The women are of the Colombian voluptious nature you'd expect. The men aren't just loaded in their Glock magazines, but also down below. NarcosXXX is straight up fancy, hot porn toons.
This stuff is legit. Girls and guys almost always have knive and guns as strapped on weapons. The porn scenes feature not only big, "fully loaded" dudes having sex with super hot latina women, but also the use of sex toys frequents these vivid NarcosXXX sex scenes.
As you can see, NarcosXXX sexual fun relies on superb, incredibly detailed graphics.
The Techie Stuff
NarcosXXX is a PC porn game. You can stream it directly from your browser. Though, there are lots of notable complaints involving playing NarcosXXX on Chrome, so be warned.
How Much Does NarcosXXX Cost?
Most of what you see implies that NarcosXXX is a free porn game. But this isn't true. NarcosXXX falls squarely under the Sex Emulator membership plan. Expect to pay $39.95 a month after a 2-day trial ends.
Final Thoughts
NarcosXXX is an insanely vivid 3D first-person role playing sex game. The graphics are eye-popping and the sex is hot. But it does cost nearly $40 per month, something you really should consider. Is NarcosXXX worth it? If you have the money to blow, I say yes. But if you are on the fence with spending cash right now, I suggest you look for cheaper or free porn game options.