Ladykiller in a Bind is one of Steam's most popular adult games. And to boot, it doesn't target hetero bros. At least not specifically. In our Ladykiller in a Bind review, we will look over price, plot, dialogue, sound, and graphics. Because reviewing adult games is what we do.
Some of you may already be scratching your heads in unison. That's likely because you had no idea that Steam carries porn games in its library. But indeed, Steam does have porn games. In fact, it has numerous popular porn game titles. In order to access a porn game on steam, you must be signed up and 18+. Otherwise, you'll see a default page explaining that you'll need be registered and 18.
And that's the case when you click on Ladykiller in a Bind. If you don't match both of those qualifications, you won't gain access to the game's preview. If you use the main site, you'll need to fill out your age. And that age must show that you are legally 18.
Now that we got the boring details out of the way, let's dive into our Ladykiller in a Bind review.
Ladykiller in a Bind – What It's About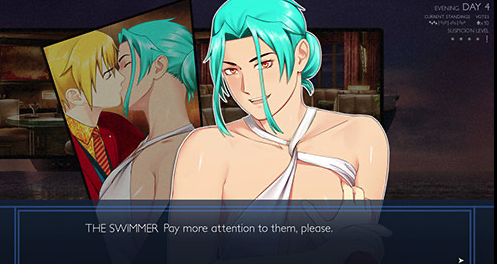 You may have picked up a sense of intensity from our feature image. And you'd be right in doing so. Ladykiller in a Bind is a racy erotic visual novel that features sex scenes. There's a focus on crossdressing and LGBT storylines unlike most adult games, and that's refreshing. Remember, the entire gaming industry pretty much builds games for straight dudes. Ladykiller in a Bind wittingly bucks this trend and at the highest capacity.
The story takes place aboard a cruise. The cruise departs from beautiful Halifax, Canada on route to Southhampton, England.
However, things aren't what they seem… (enter the dramatic score).
While first appearances suggest you're a dude, you're in fact, a girl. And, a lesbian. You're crossdressing as a way to progress in life. The visual novel is told in the past. Currently, you're held against your will by your brother.
Yes, Ladykiller in a Bind is a complex erotic novel not for the shallow. If you like your adult games spoonfed to you with hot pics, Ladykiller in a Bind won't be your gig. And that's fine. The graphics in the game are awesome, but there's a lot of storyline to work through in order to fully embrace the game.
There are two main characters, The Beauty, and The Stalker. You can change those names as desired. Just know, The Stalker is the submissive one (see our feature image). That makes The Beauty the dominant figure (again, the feature image). Or instead of scrolling back up, here you go.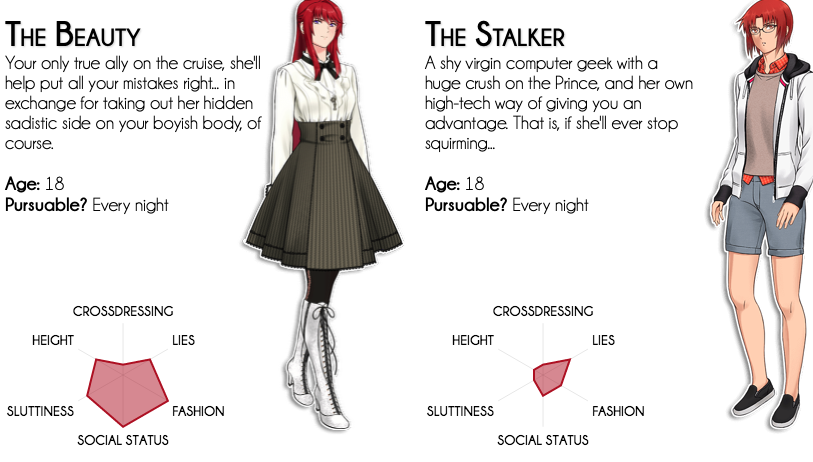 Now, things are about to get weird. Maybe too weird for many of you. Actually, too weird for me.
Your brother enjoys hearing of your crossdressing sexual endeavors.
Graphics
Ladykiller in a Bind's graphics are well-thought out and exemplify a sort of dark odyssey. The game aims at an escapism concept, and the images that coincide drive that philosophy home.
The characters are crisp and emotionally present, frequently disturbed and apprehensive. The settings often reside in dimly lit circumstances that help the sub/dom themes transpire.
While Ladykiller in a Bind is a visual novel, it does not slouch on the visual experience at all. The characters are always the topical focal points but the backdrops offer us mystery and a bit of uncertainty. In other words, the images tell their own story beyond the dialogue.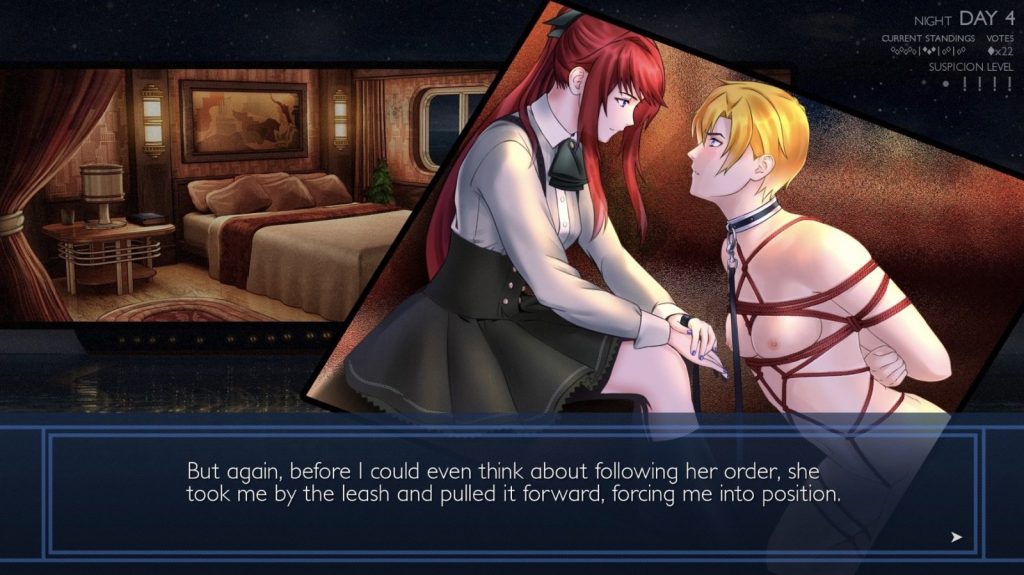 Final Thoughts
Ladykiller in a Bind is one of Steam's most popular adult games. It's an erotic visual novel that's complex bizarre plot makes it supremely uncomfortable to play. It features lots of crossdressing and gay storylines which makes it a unique play compared to the typical game out there. You can visit Ladykiller in a Bind's site here, or try Steam.