The porn game industry is booming. It's experiencing a surge of interests like many never expected. But in reality, many should have seen the writing on the wall for a decade's worth of time prior. The rise of porn game popularity has been obvious. Some might say that the virtual reality porn game, Holodexxx, marks a signifigant uptick in porn game popularity energy. And they'd likely be right.
Our Holodexxx Review Reveals a Porn Game Breaking Barriers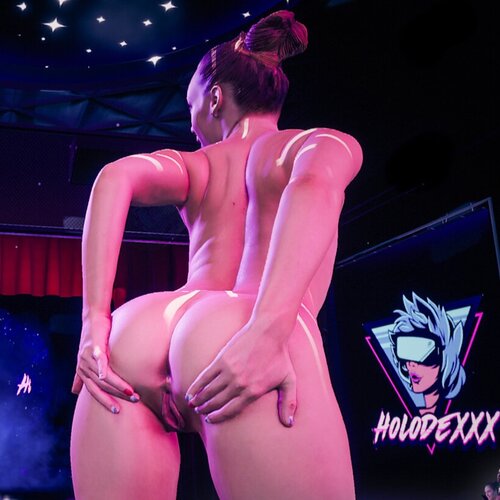 Holodexxx's claim to infamy is that it spent near $20,000 on the game's development under the idea it would list on Steam. But instead, Steam told Holodexxx to pound sand, causing the developers to publicly critisize Steam's new adult game approval process.
Who is right and who is wrong? Who cares?
This isn't to say that there's not substance to the debate over the battle between Holodexxx and Steam – there certainly is. Holodexxx experiences an unfair competetive market environment when a major gaming platform seemingly usurps their listing. But at the same time, there's nothing anyone can do.
Steam maybe felt using porn star likenesses, as Holodexxx does, created risk. But Holodexxx legally uses all the pornstar personas. They've gained consent across the board. And it also seems that the pornstars are happy to partake.
And that leads to the meat of this Holodexxx review post.
What is Holodexxx?
Holodexxx is a virtual reality porn game that emulates 3D versions of actual pornstars. In order to achieve mindblowing likeness, pornstars are hooked up to wires and recreated in a virtual environment.
And it works, as you'll see in our next section, Holodexxx graphics are insanely brilliant and authentic. They are works of art.
There are two modes to Holodexxx:
The free mode and the home mode.
The free mode places you in a dark strip club where you can interact with girls. The home mode, or the paid version, puts you in a house with a solo pornstar. And that girl is famous pornstar Marley Brinx.
Yes, a 3D eyepopping, sexy virtual reality version of pornstar Marley Brinx is inside your home – willing and ready. Because the graphics of Brinx are so stunningly real, it can nearly incapacitate one.
I mean, come on.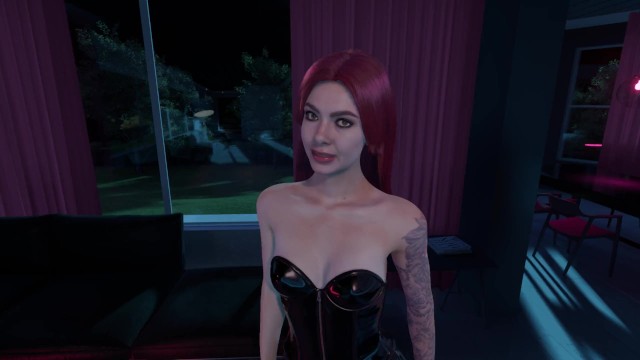 Brinx is incredibly sexy throughout your VR adult sexual simulation. And I mean she's exact, right down to her tattoos.
Home mode is not quite as intimate, but it certainly does achieve a high level of VR intensity.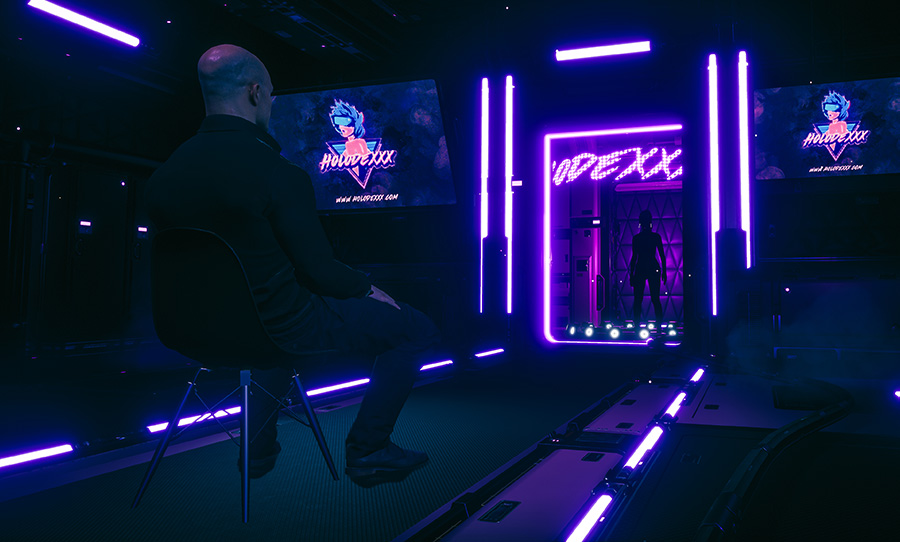 Holodexxx places you in an adult dating simulator. You can customize the girls' clothing. But the one downside to the Holodexxx experience is that the amount of girls are limited to just a few. But that makes sense given Holodexxx must work with the pornstars and license each of them. In other words, the Holodexxx framework is on the up and up.
Holodexxx Graphics
Holodexxx virtual reality graphics are some of the most stunning and impressive of any porn game to date. This VR porn game features sexy porn star images that embrace nearly every bodily feature of the authentic performer. It's mindblowing, to say the least.
Much of Holodexxx's settings, including both home mode and the free strip club mode, are set in dark environments. For the strip club, it's natural to expect dimmer lighting. In home mode, you always feel as if you are lurking in the evening hours waiting for your sexy girl to walk into the room.
You can customize a lot of features on the girl, as you can see in the below Holodexxx graphics.
Its all pretty amazing. Its difficult to imagine how far the Holodexxx VR environment will go following more updates.
Check out the graphics.
Does Holodexxx Costs?
Its free to interact in the strip club. If you want home mode where pornstar Marley Brinx will be at your beck and call, you'll pay $5 to start.
In Conclusion
Holodexxx is one of the top VR porn games online to date. Although Steam rejected the game's listing, it remains a super popular destination for those looking to escape their mundane lives and enter a sexy virtual dating simulation. These 3D graphics are addicting and captivating and arousing. You can't go wrong with Holodexxx.