Have you ever had a BDSM fantasy? According to statistics, you've had more than just a few. People often fantasize about BDSM, but more often, have no outlet for it. People simply are too scared to put their toes in the water. That's fair, BDSM requires knowledge and a strict adherence to safety. Fortunately for all of you, a virtual reality porn game called Dominatrix Simulator allows you to experience BDSM from the safety of your home (without anyone else in the room).
In our Dominatrix Simulator review, we will look at how this BDSM simulator works and whether it is worth your time and money.
Dominatrix Simulator Review – Starter Info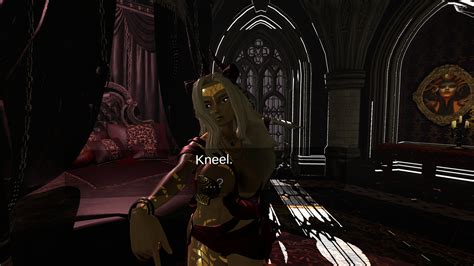 Dominatrix Simulator is a virtual reality porn game found on mainstream gaming platform, Steam (here).
In Dominatrix Simulator, we find a BDSM porn simulation experience that focuses on consent. We love this because in BDSM, consent equates to safety. If you ever decide to embark on a BDSM relationship outside of the VR sphere, it is important that consent act as the centerpiece. For this reason, Dominatrix Simulator helps a BDSM newbie in a risk-free environment learn "the ropes."
Dominatrix Simulator wants you to actively partake in the action. A dominatrix will command you and you are expected to follow instructions. If you are asked to remove your pants, the game encourages you do so. Again, to be clear, this is a consent driven environment so if you don't feel comfortable, certainly don't act on it.
You'll decide basic info from the outset, mostly revolving around your gender (male, female, undecided). This decision helps your powerful dominatrix understand how to refer to you.
Your answers to commands are yes or no, typically demostrated by way of your head's movement. You interact with your femdom in a dungeon-like atmosphere. You'll likely be asked to kneel before your femdom straight-away; following such, expect a slew of BDSM type commands. Again, you are expected to appease your femdom by actually following through with the requested actions. That is, unless you decline.
Dominatrix Simulator Screenshots
Dominatrix Simulator graphics are pretty good, though the core competency of the game involes the "in real life," or IRL component. Overall, the dark and dreary images certainly inspire an immersive state which is needed for any virtual reality environment. These Dominatrix Simulator screenshots are particularly heightened when you experience this game through virtual reality devices.
Technology
Oculus Quest, Oculus Rift, HTC Vive, PC.
Dominatrix Simulator Cost
Dominatrix Simulator cost $12.99 on Steam. You own the game.
Conclusion
Dominatrix Simulator will test your will and strength. Its an erotic, highly tantalizing BDSM experience which is perfect for newbies and moderately experienced submissives.