This week's top porn games feature some real doozies, including a free porn game based on a famous porn star's life. Our free porn game stockpile grows daily, so always pop on and get the absolute best free sex game experience.
This week, we find a famous porn star needs you as an assistant. Oh, there's a good amount of BDSM porn fun. And you can help a broken hearted man live his best life when he incidently picks up a sexy hitchhiker after being dumped by his remorseless girlfriend.
Top Porn Games for 3rd Week of August 2020
My Girlfriend is a Dominatrix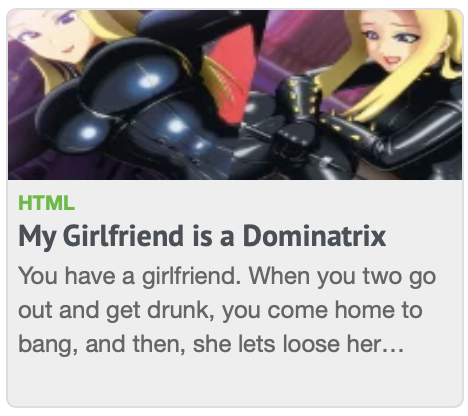 Imagine coming home from the bars, you and your girl are wasted. It's time for hot, drunken sex. But suddenly, she gets a little rough and alot commanding. Then you realize that your girl loves BDSM, or being a dominatrix, particularly when she's drunk. That's what My Girlfriend is a Dominatrix is all about.
It's sort of a surprise BDSM play. It's fun.
Play My Girlfriend is a Dominatrix
Arnie and the Hitchhiker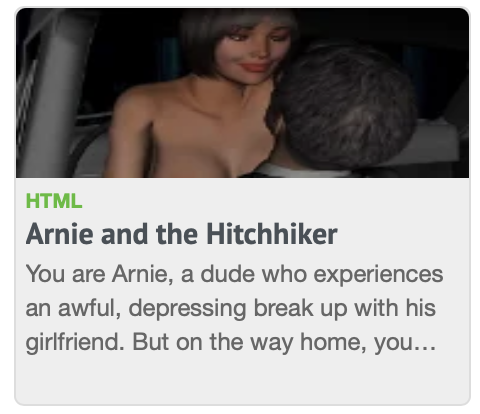 Imagine those feelings you get when a girl dumps you. That's Arnie as he's driving home, sulking in his own misery, feeling as if nothing in the world matters. He feels unloved, and worse, unwanted.
But a turn of random luck changes Arnie's life for good. And for the better. He ends up picking up a sexy female hitchhiker who infuses Arnie with new hope. And lots of needed sex.
It's sort of porn game therapy.
FemDom Lockdown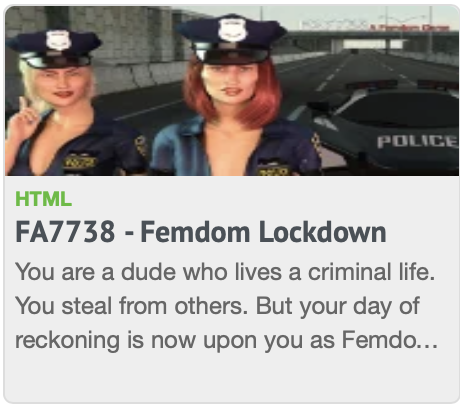 More on the BDSM porn game front, Femdom Lockdown exploits a man's issues getting into troubles. But in this society, there are FemDom enforcers who seek to make sure damages are paid. And these girls aren't messing around – that ass will be spanked if you don't fall into line.
The police force costumes are not only sexy, but authoritative in presence which is perfect for bondage porno fun. High speed chases are also in play in this sex game.
Asa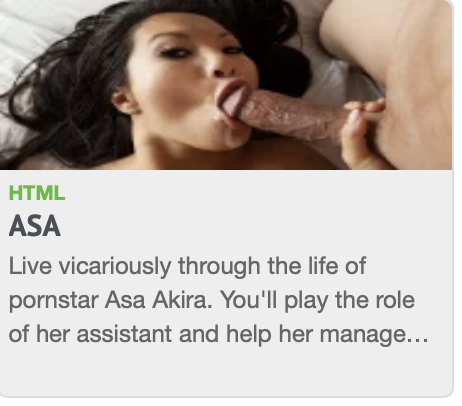 While I don't believe Asa Akira has anything to do with this porn game, it remains a fun and invigorating play. It's flat out sexy, I should say. Asa has been in more than 500 porno movies and she's won the coveted AVN Female Performer of the Year Award.
She's off the chain hot and she's fun.
In Asa, you play Asa Akira's assistant. This means helping her book nude and porn shoots and manage her social media presence.
It is quite the sexy job, no doubt.
Quiz With Nicole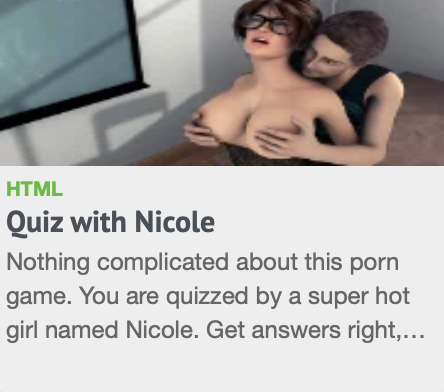 I've included Quiz With Nicole, not because it's some awesome porn game (it is not), but more because it is a simple, fun play. As well, the quiz master girl, Nicole, is super sexy. There's some good illustration for cartoon porn lovers in this sex game. But moreover, this is a simple porn game that's very fun to play. Nothing to learn in terms of functionality, just click play and enjoy the experience.
You can find 1000's of free sex games on our website. Browse, play, and live your best life. Of course, you need to be at least 18-years of age, or the legal age to view adult content in your region.